The Specialist View: Your World Cup 2018 media advice
Your guide through the media landscape during the globe's biggest sporting event
Over 3 billion people watched the World Cup in 2014, making this football extravaganza the globe's biggest single sports event.
Given this enormous reach and potential, it's no surprise that we're already starting to tie up our World Cup campaigns.
Though if you're not quite up to speed on how to get the most out of this exciting time, we've asked our channel experts to give you the lowdown on the media landscape during the World Cup – topics include, availability, time-frame recommendations, consumer behaviour patterns, rates and more.
Please welcome our expert panel…
How will the World Cup effect availability?
TV/AV: Linear TV viewing is typically lighter in the summer months; the market is softer as a result.  Major sporting events like the World Cup bring additional investment from advertisers, increasing demand for viewing impacts, but this is mirrored by increased supply of impacts, particularly from hard to reach younger male audiences. Availability for home nation games will be tight, particularly for those games in the evening (UK kick off times will be 1pm, 4pm and 7pm), accessing lower profile and daytime games, will be much less so.
Press: Unless you're looking to book into sports sections, the World Cup won't have a major impact on the general availability. However, space in and around sports sections/editorial will naturally get booked up further in advance – plan early!
OOH: We can expect FMCG brands and World Cup sponsors to have already booked their OOH advertising campaigns. Of course, this means reduced availability across national 48 sheets, however, the smaller formats should be on standard availability.
Digital: Most digital ad space isn't advanced booked in the manner of offline media, so generally speaking, big international events, such as the World Cup, don't have a have a huge impact on media cost or delivery. The exceptions will be highly tailored partnerships with niche content publishers, which need to be investigated well in advance. Social space would probably get quite busy since Facebook, Twitter and Snapchat are seeking online rights to video highlights from the World Cup, so sponsoring live events related to the World Cup might get booked up earlier in the year. Additionally, any exclusive World Cup content on YouTube might also be reserved a few good months before the event.
Digital: Whilst it may feel like we spend a long time talking about the World Cup, you can see from the below chart (Google Trends) that consumer interest in World Cup topics is mostly restricted to within the month the tournament runs. A little interest builds in late May, but people really engage during the opening weekend and throughout the group stages. (Note, this graph shows UK trends only). We would recommend a heavy presence in place by the opening game; reference the various stages of games in your communications, making your message relevant to that particular phase e.g. opening vs semi-finals etc.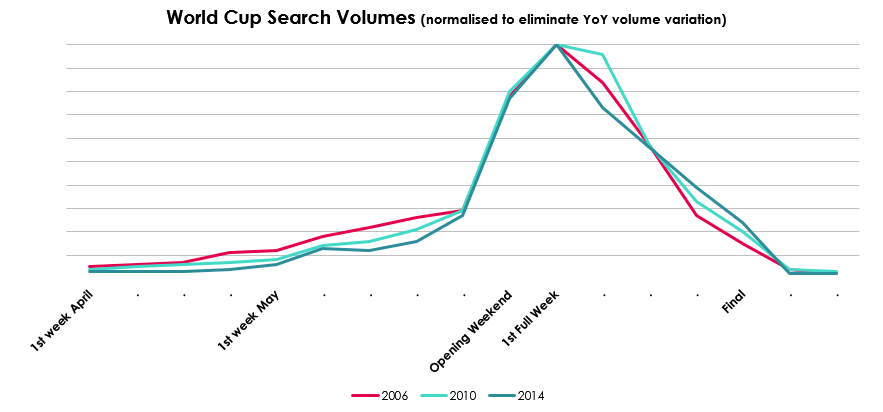 What are the likely consumer behaviour patterns?
TV/AV: Various factors affect how consumers will behave around the tournament – how home nations perform, the timings of games etc. This is partly predictable, but there is also a need to be reactive to circumstances and adapt to consumer behaviour as the tournament plays out.
OOH: Life should go on as normal, however, expect lower traffic levels during England games and higher pub attendance. Socialite screens in pubs offer a great reach – while dynamic DOOH during England matches are less attractive.
Digital: Referring back to the chart (above), if you're actively trying to leverage the World Cup then it's important to bear in mind that you really only have a 2-3 week period to make an impact. During that time people will be far more likely to engage with related World Cup content, so from a digital marketing perspective you may need to change your content strategy to exploit this. But any change in your consumer behaviour won't last for long – which is probably good news for many advertisers, who may be adversely affected by people's attention being focussed on football. Also remember, the content strategy needs to stay relevant to the evolution of the event, as some footballers/brands/countries might become very popular/unpopular overnight; all communications should reflect the given mood.
What happens if/when England go out?
TV/AV: Naturally, coverage of England games will attract more English viewers from across the demographic spectrum. When England go out, typically impacts do start to fall below estimation (or what they would have been with England still in the tournament).
Press: In previous years, we've seen a softer trading market in press post 'event'. The volume of advertisers who bring budget forward specifically for the World Cup mean that demand tends to be lower afterwards. This can (and has in the past) led to more short term/cheaper space in the market in subsequent weeks.
OOH: Static sites will not be affected too much. DOOH, conversely, may have additional availability due to releases by England team sponsors; that is, if they have the flexibility in their media schedule to shift volumes to later in the year.
Digital: Your window of opportunity probably gets shorter with an early England exit. Again, the graph above (Google Trends) shows a decline as the density of games reduces, but you can also map England's performances onto this. The sharpest decline in interest in the second week of the tournament was in 2014, when England were eliminated after only two games in the group stages. In 2006 and 2010 England exited in the third full week of the tournament (quarter finals and last sixteen respectively) and you can clearly see the reduction in interest after that time.
Intriguingly the interest in the final two weeks of the tournament was higher in 2014 – perhaps more general interest was somewhat rekindled once England fans had recovered from their early shock. This could offer a great opportunity to entice consumers with offers or freebies to make it up for the deep disappointment and spread some brand love! Ben & Jerry's did a great job four years ago, distributing free ice-cream to supporters of the countries that were eliminated in the first round. Brands can get very creative and use the opportunity to get closer to audiences.
Which channels would be best for my campaign?
If you would like further advice on how to drive maximum efficiencies out of your media campaigns throughout the World Cup, or to discuss any TSW services, please contact Matthew Pover on

[email protected]