What Google's removal of right hand side ads means for your campaigns
On the 19th of February Google confirmed that it had removed all PPC ads from the right-hand side of the search results page with immediate global effect.
This change should provide a more consistent search results experience across multiple devices, but may also result in reducing the share of clicks gathered from organic search results, which are now often fully below the fold.
There are now four paid search ads at the top of the page instead of three for any "highly commercial" queries, and the right-hand side will only be populated by Product Listing Ads (PLAs) or the knowledge panel results in the foreseeable future. An example of how the search engine results page looks right now, for the query "hotels in bruges", is below: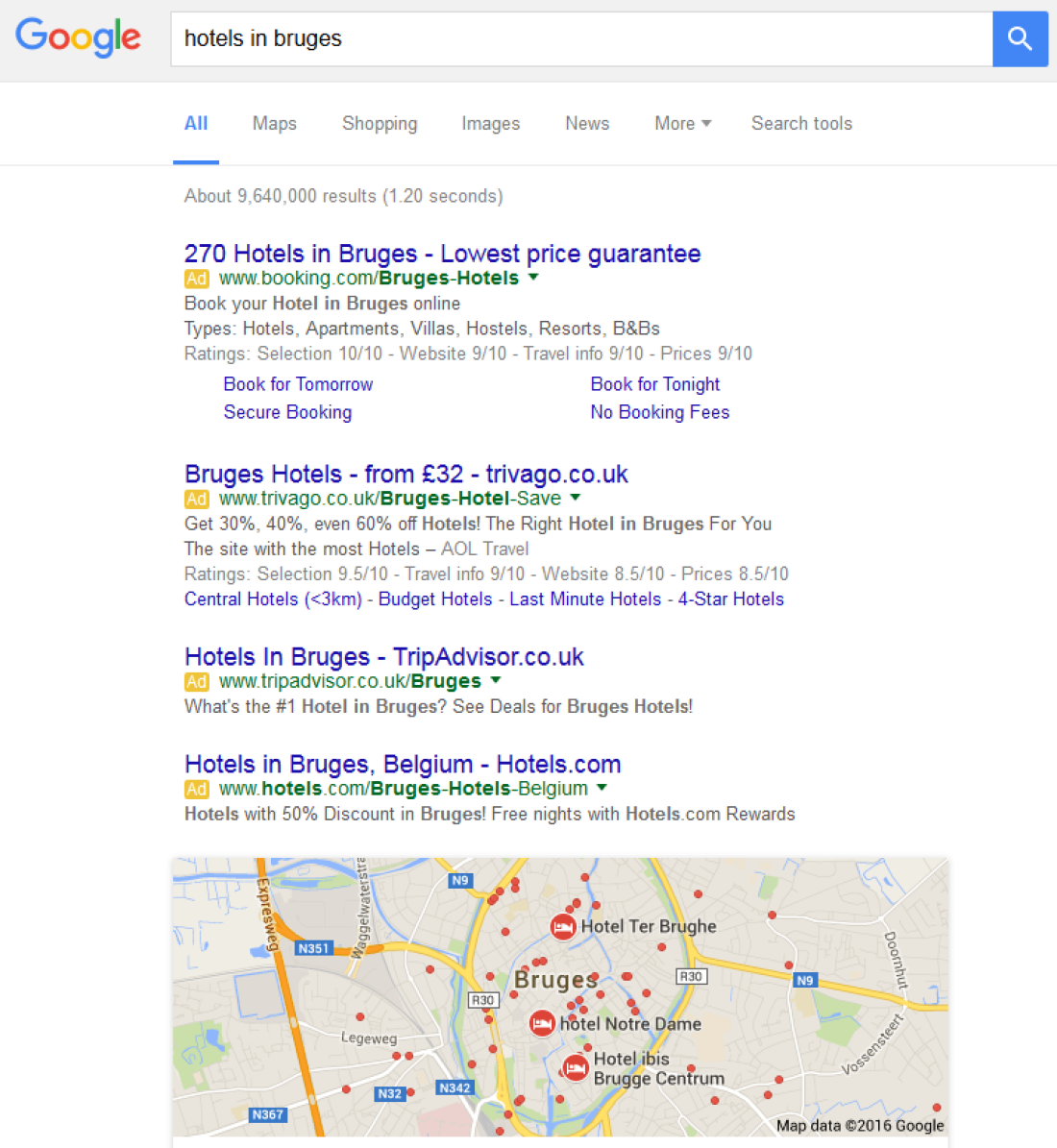 This means that not being in position 1-4 with your text ads now guarantees that your ad will not being visible above the fold, which will no doubt mean a reduction in click traffic for many advertisers. The removal of side ads, and shifting of organic results further down the page will also likely lead to an increase in click share for the top positions.
Early data from the PPC software WordStream, which monitors thousands of accounts globally, suggests that the biggest winners of the update are those ads in position 3, which saw CTR double in the immediate days following the change: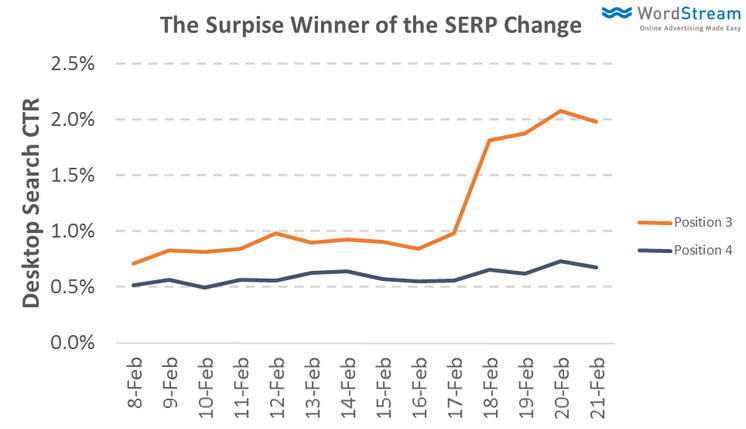 Conversely the data shows ads in positions 5-7 are experiencing significantly lower click volume now that these ads are always placed at the foot of the results page: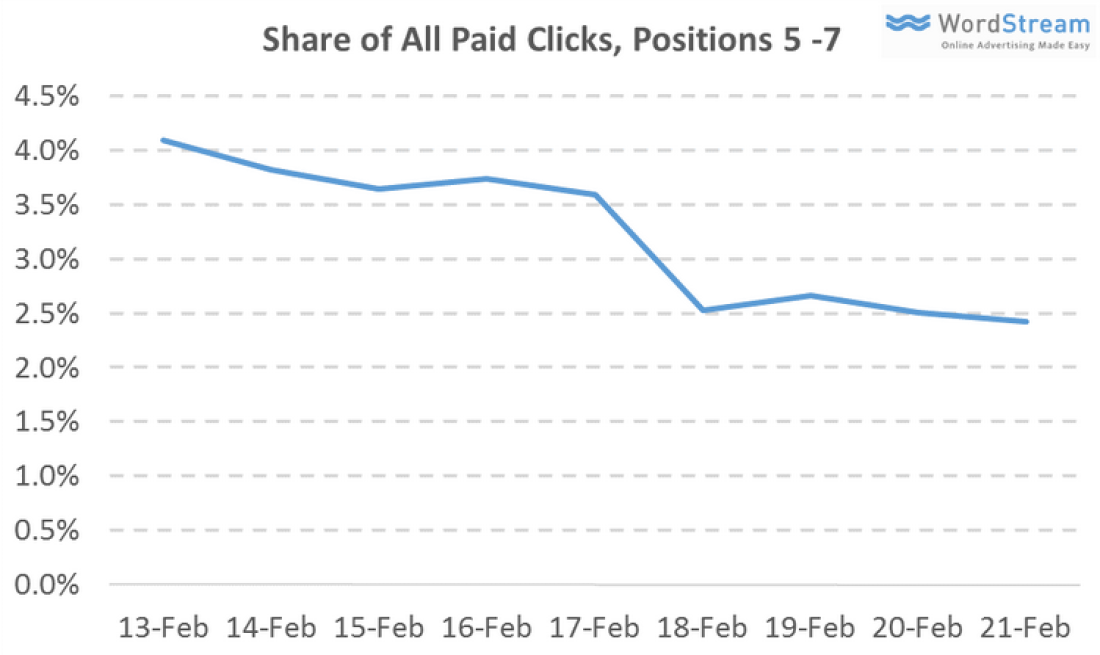 Advertisers commonly residing in positions 8-11 have now been relegated from the first page of results altogether, so visibility of ads in these positions will really tumble.
What does this mean for my AdWords campaigns?
The change won't have any impact on the amount you pay for your ad clicks. Although you'll probably see click-through-rates fluctuate, the CTR used in Quality Score is normalised by position, meaning it's still your performance relative to other advertisers that is important, not your position on the page.
However, there's less visible ad inventory above the fold, and the top ads are receiving improved click shares, which will make them much more attractive to advertisers. This will probably result in a jump in bids in many landscapes which will drive everyone's CPC up.
Our immediate advice on bid strategy is not to make a knee-jerk reaction. We're closely monitoring our clients' accounts to see exactly what impact on traffic these changes have, and testing the effect of bid alterations to a small subset of keywords. Most well-run campaigns are trying to deliver ROI rather than visitor volume, and it may be that if there is an initial jump in CPC within individual landscapes this will settle back down as people fully assess the additional cost.
This update to the search results page also provides a notable advantage to those advertisers using Shopping Campaigns. With the right-hand side space predominantly comprised of PLAs for product-related queries, optimising your product feed and your Shopping Campaigns to generate maximum visibility of your products in the search results has become even more important.
Shopping Campaigns' share of overall traffic has been creeping up since the change was rolled out: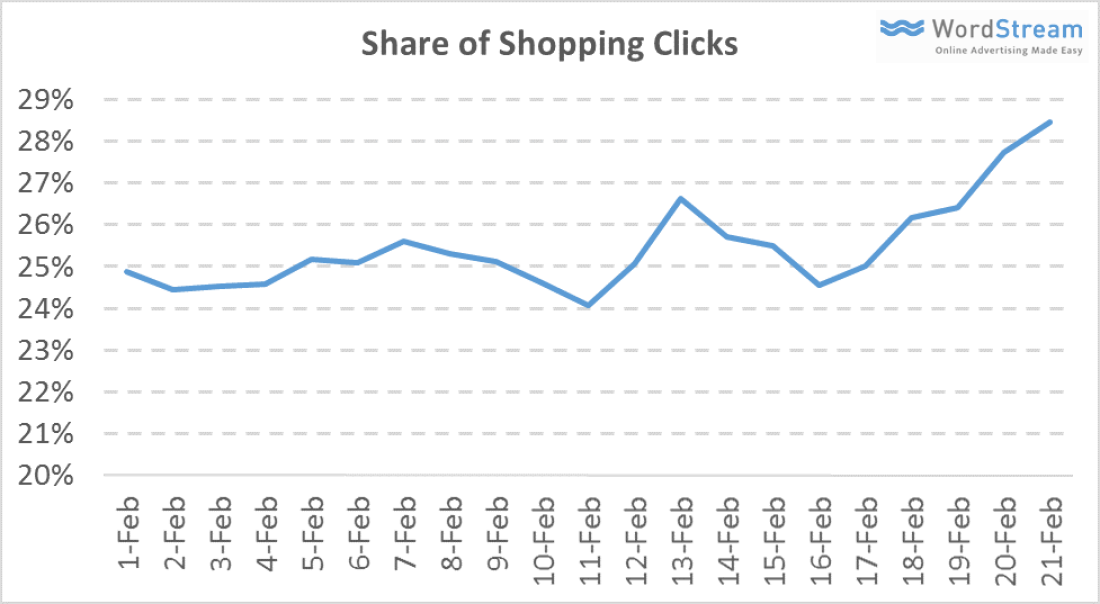 We've always been huge proponents of using Shopping Campaigns for all our e-commerce clients, as they are some of the best performing placements available. This change will only cement this and make efficient campaign and product feed management even more important.
If you have any questions, call Sam Vandermark on +44 (0)20 7539 6139, or email

[email protected]