Are you being (dynamically) served? The future of TV targeting
How ad-syncing will let you beat the marketplace and re-target TV viewers with personalised content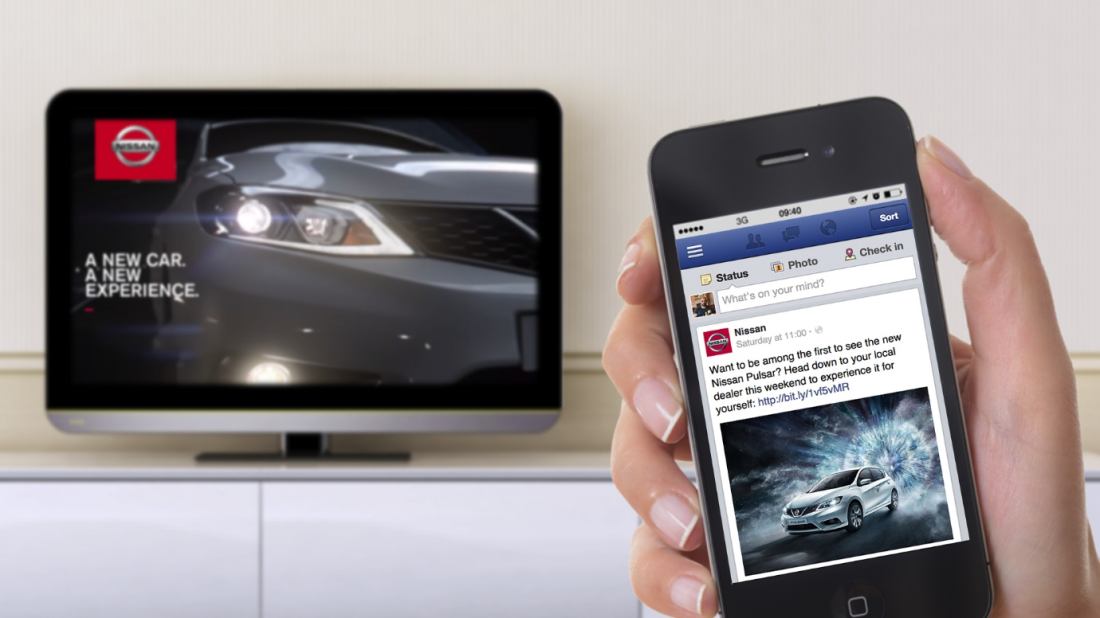 You watch a TV ad. You want to find out more, so you reach for your smartphone. You mean to Google the brand. You get distracted by Facebook. The ad is forgotten.
But what if the brand could follow-up on Facebook with a friendly reminder? A personalised message? Maybe an offer exclusive to you?
As an agency whose success has been built on the responsiveness of clients' advertising – whatever the medium – we've been excited by the idea of programmatic TV for a long time. Delivering personalised ad content to the second screen of a consumer who has just viewed your TV commercial is the marketer's dream, and it's almost here!
Pulling mass-market TV into the world of clickthrough and retargeting means you can shorten the journey to making a purchase, signing up or downloading an app. It also side-steps the marketplace clutter of organic search (the most common TV response route) ensuring you don't lose leads to your competitors.
But this is just the start…
Ad-syncing can create incremental campaign reach for the brand, and a clever creative approach can deliver more relevant touchpoints, display a larger range of products, and drive greater personal engagement with your brand.
And what about that competitor brand with the larger TV budget than yours?  Ad-syncing doesn't need to be restricted to your own campaigns.  Undermine their campaign with a different creative message or a more compelling offer than the one your competitor has just delivered on the big screen.
With big TV events like the Euros this month and the Olympics later on this year, consumers have their mobile devices ready, to engage with the wider world and what they are enjoying on TV.  Whether they're updating Facebook or chatting on Twitter, ad-syncing can 'interfere' with the user's experience, engaging them while they're already engaged!
Ad-syncing also allows for optimum efficiency in paid search. Syncing your search following the TV transmission of either your own or competitor brand ads supercharges your search conversion, using programmatic to avoid the need for constant high bidding against certain keywords. Ad-syncing means you can focus bids around the TV events that are likely to drive significant spikes of web traffic.
It's going to be seriously game-changing, but let's not get ahead of ourselves.
It has taken broadcasters a long time to get on board, and the technology is still evolving.  It was only late last year that Sky struck a deal with Videology to "create a programmatic, cross-screen video advertising solution".  ITV shortly afterwards announced its partnership with RadiumOne to launch Ad Sync+, allowing ITV advertisers to reach audiences simultaneously across other devices and online environments with targeted ads.
So the groundwork is being put in place for TV advertisers, and though it might take some time to get ad-syncing up and running, there's no reason to hold back on exploring the creative possibilities – consumers already expect personalised messaging and content on digital platforms, and when it hits TV the early-adopter brands will undoubtedly cut-through the most. Some clever creative execution is all that's needed to make a big PR splash.
This kind of new tech and increased consumer data promises big, but as always it's not the data itself, but how you use it, that can generate increased profitability and commercial success. Deployed properly, programmatic TV has real potential to even the odds and allow your brand to punch above its weight.
Call Grant Crymble on 01761 234822 or email

[email protected]