Brand vs Direct Response – a thing of the past
Whether brand or DR, advertising shares a single goal: to drive response. Though DR tactics gratify this need immediately, the larger business effects of a campaign come from a smarter, more considered approach.
Brand campaigns amplify direct response activities, and as attribution tech advances we are able to generate a much more accurate and nuanced picture of response that goes beyond last-click, unique URLs or offer codes. The focus on direct, short-term consumer responses need not be the only way of measuring media effectiveness.
This is not groundbreaking. Clients and agencies are aware of this, but navigating between DR and brand can be daunting.
To the direct response marketer, successful marketing comms means response rate, means conversion; if it has these, then it's real. The awareness-focused goals of brand marketing are often harder to pin down. Brand aids response, but doesn't necessarily produce it – so how can you justify its investment?
It's about re-framing. Intelligent brand marketing is not an optional extra, it forms the fundamentals of a positive consumer environment that can then supercharge efficient DR conversion.
So how can the industry reduce its reliance on the old-fashioned DR/Brand dichotomy? How to kick-start the process?
Read The Long and The Short of It
Binet and Field's 2013 research for the IPA has become an industry standard in the world of media. Its case for brand response marketing as a 'best of both' strategy demonstrates that the most successful campaigns treat both memorability and immediate sales as KPIs. Pure DR campaigns, while great at delivering quick results, aren't memorable. But investment in awareness builds brand fame, drives price elasticity and longer-term profit.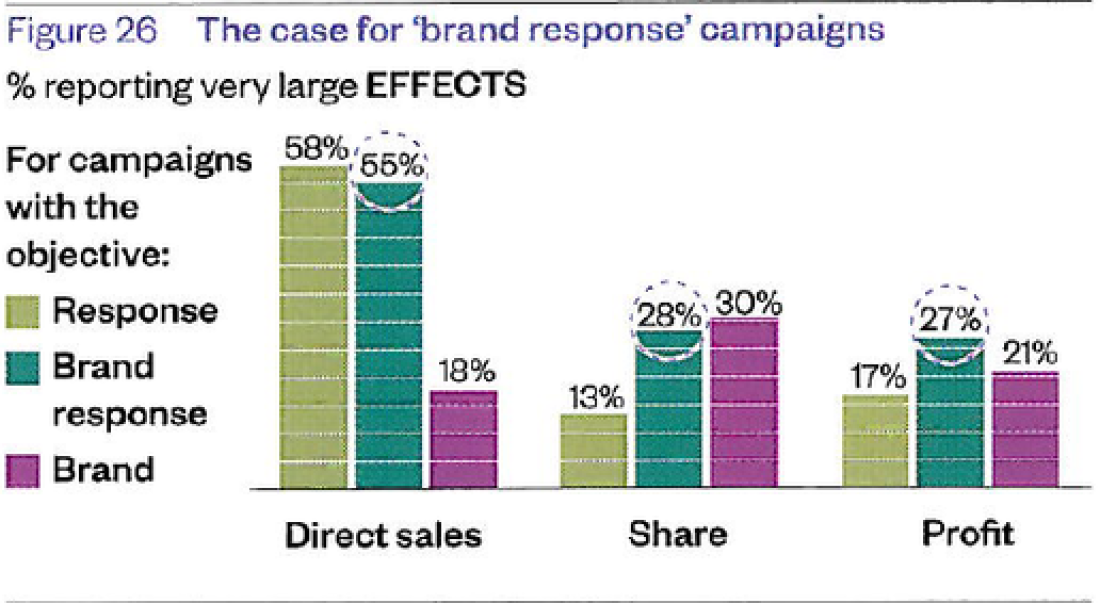 Social and mobile change the goalposts
Just as repurposing TV creative doesn't always create the best pre-roll video, bespoke social and mobile copy doesn't follow the same DR/brand rules as offline channels. The visual, communal fabric of social means the best copy allows consumers to be co-authors and collaborators. Branding becomes a conversation, not a broadcast, so traditional calls-to-action carry less weight. On a platform where brand creative can drive high-quality immediate response just as easily as DR creative, traditional distinctions between the two disappear.
Budget flexibly between DR, BR and Brand
Channels don't have to be inherently 'brand' or 'DR' – getting the most from each is all about flexible and creative buying. At TSW, our Performance PerspectiveTM gives us a unique vocabulary, culture and approach to this flexible buying within and between each media channel.
Educate, empower, be brave 
To change perspectives and break new ground, business and agency need to be on the same page: as trusted partners, challenging traditional client/supplier relationships. Identifying the right shared objectives can help make the most of fluid brand and DR balance:
Be careful with short-term metrics, as they do not predict long-term business success.

Think beyond immediate DR attribution. It's good for short-term effects, but points away from emotional, creative campaigns, brand fame and hence long-term ROI.

Choose carefully – the number of channels available to reach consumers is exploding. Do not let too much choice kill creativity.